De Green Deal Gedeelde Mobiliteit is een engage­ments­ver­klaring tussen uw bedrijf en de Vlaamse overheid, om gecom­bi­neerde ambities rond duurzaamheid en modal shift versneld toe te passen.
Door deze engage­ments­ver­klaring aan te gaan kan u beroep doen op een gratis pakket aan zicht­­baar­heids- en ondersteuningsmaatregelen:
- onder­­te­­ke­­nings- en persmoment
- zicht­baarheid via nieuws­brieven, sociale media, website, pers
- opvolging, begeleiding en evaluatie
- opzetten samen­werking met relevante partners
- deelname aan werkgroepen gelinkt aan thema's die in het engagement zijn vooropgesteld
- deelname aan jaarlijks inter­na­ti­onaal symposium gedeelde mobiliteit.
Voor wie
Alle Vlaamse bedrijven.
Kostprijs werknemers
Niet van toepassing
Kostprijs werkgevers
Deelname aan de Green Deal is gratis.
U moet wel een engagement aangaan dat volgende elementen bevat:
- meerdere concrete, meetbare, indivi­duele acties opstellen
- meetbare doelstel­lingen bereiken.
Voordelen werkgevers
- Deelname aan de Green Deal geeft uw onder­neming zicht­baarheid en een aantrek­kelijk en duurzaam imago.
- Door gedeelde mobiliteit te stimu­leren bij uw werknemers, verbetert de bereik­baarheid van uw organi­satie en spaart u parkeer­plaatsen op uw bedrijfs­terrein uit.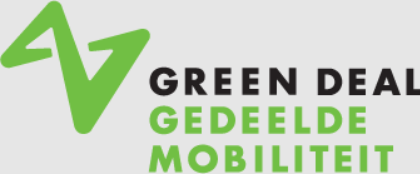 Initi­a­tief­nemers
Het project is een initi­atief van Autodelen.net, Taxistop, The New Drive en The Shift i.s.m. de Vlaamse overheid (Depar­tement Leefmilieu, Natuur en Energie / Depar­tement Mobiliteit en Openbare Werken).